From events to project building this is the place to share all

I've read about it a few times in Motoring News & CCC but I've never been to see it or been to Croft either, this would seem to be a mistake because it was bloody great!
There was a lot of Scandanavian nutters in silly fast spaceframed Volvos, a few WRC style Escorts, Focuses, Festas & Pumas. The Minicross cars were slow but very close racing & right on the limit which made better veiwing than the WRC stuff.
Best though was the revivals class for the older out of date stuff: spaceframed Mini & Metro, TR7 V8, Mk2 Golf, Sierra, Mazda RX7, Even a Triumph GT6!
Got a few pics before my camera battery died, not the best cos neither me or the camera were up to the job! Wanna see them?
Posts: 1498
Joined: Thu Sep 14, 2006 10:45 pm
Location: South of the border, north of the wall
---
Of course.
I've spent much of my life in an alcohol induced haze, so I don't see how a few blurry photos are going to bother me.
Posts: 386
Joined: Tue Mar 14, 2006 10:30 am
Location: United Kingdom
---
It is a great day, usually blessed with good weather too. It's great to be able to stand on the pitwall and get to wander around the pit garages as the teams are working on their cars.
I usually go, but not this year, was there some geezer in a sky blue Volvo 240? I remember him from a couple of years back.
Was it the final?
Posts: 811
Joined: Thu Mar 30, 2006 3:03 pm
Location: Azerbaijan
---
Camera is out in the van, I'll post a few up later.
There wasnt anyone with a sky blue 240, but there was an orange one! Mabye he got a sponsership deal with Tango [:D] sadly it broke down in the first race I saw it in.
It was the Superprix I think & the weather was spot on, a really nice autumn day.
Posts: 1498
Joined: Thu Sep 14, 2006 10:45 pm
Location: South of the border, north of the wall
---
We were stood on the bank on the outside of the first corner, which gave us plenty of scenes like this
And this, the Focus got T-boned during this & the driver wasnt happy!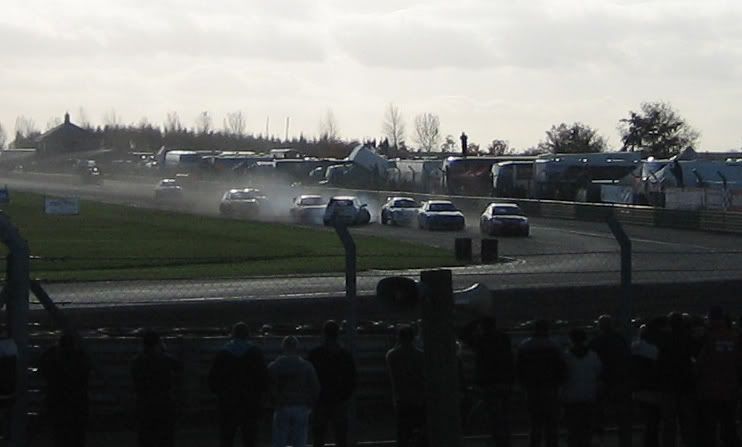 Minis are supposed to understeer but I could get mine to go sideways, so can these folk. The green one in the bottom pic was travelling at some speed in this photo but managed to miss the tyres!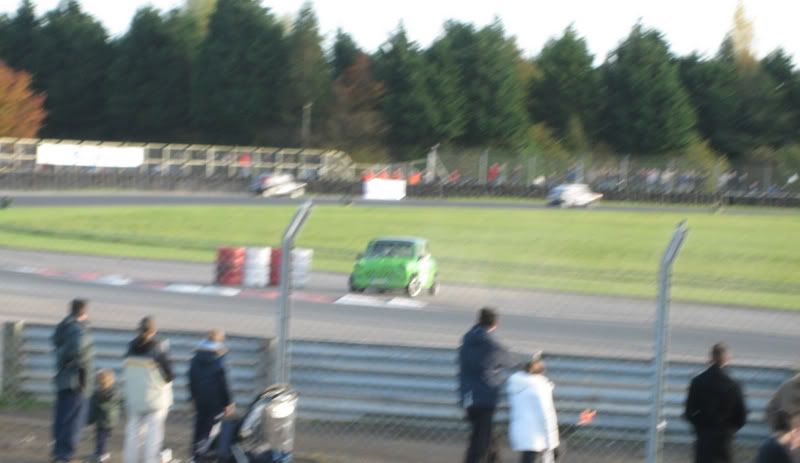 The driver of the sideways yellow Mercedes seemed to be a dick, going for gaps that wernt there etc but got it backfired for him here & he got to watch his rivals from the gravel trap.
The driver of the white Elise got a good view of the underside of the orange Scooby, it went a lot further than this but the driver got it back down. Mabye needed a change of undies [:D]
This Mazda RX7 won every race I saw it in. Despite not being challenged by anything it was still entertaining to watch, smoked the inside front tyre almost every time it came into this corner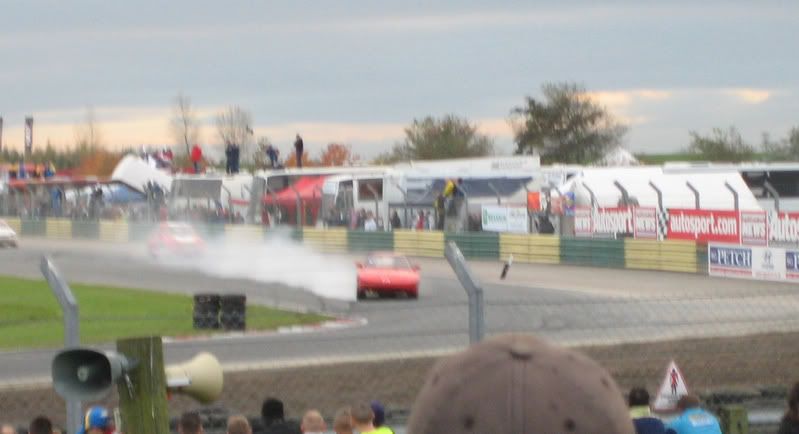 Posts: 1498
Joined: Thu Sep 14, 2006 10:45 pm
Location: South of the border, north of the wall
---
---
Return to Events : What are you doing at weekends?
Who is online
Users browsing this forum: No registered users and 1 guest