If you can't stand the smell of petrol, if you don't get goose pimples when a dragster launches, or if your manicurist's phone number is on speed dial, bugger off. PPC in the Park is not for you. But for the rest of you we've some good news. PPC in the Park is back 19th May 2012 at Mallory Park

As a follow up to the who is going thread lets have a who is camping thread (not who is camp!!! that's totally different).
Might not be a bad idea to give each other an idea of what you'll be in/stood near too, as for the socially awkward type (me) who isnt great at jumping into peoples conversations and asking "who are you then?" it gives us (me) a chance to say "ah, you must be Owelly then". The socially awkwards (me) in this case will know it was Owelly as he'll be in the vicinity of something only a mother could love... and I am of course talking about the Magenta!!
So to start off I'll be camping Friday and Saturday night with my girlfriend and will be in or near a particularly non PPC chav'ed up big speakered/bodykitted etc ford focus, possibly with an abomination of a lowrider/chopper bicycle on the roofrack. It'll make me look like a tw@t but I'm OK really
Spud
Posts: 1327
Joined: Mon Jun 06, 2005 1:16 pm
Location: Wallis and Futuna Islands
---
Might be camping Saturday night if we manage to get there, although that'd give Pat a whole night to take the piss outa the buggy for blowing up last time we saw him, so maybe not
Posts: 1088
Joined: Wed Mar 22, 2006 9:38 pm
Location:
---
Camping friday + saturday with a mate - the other half would rather drink battery acid than come to a car show
Going to be in the mother of all tents, with a half-gelled mohawk (I'll have slept on the other half!) and driving a rather fetching car...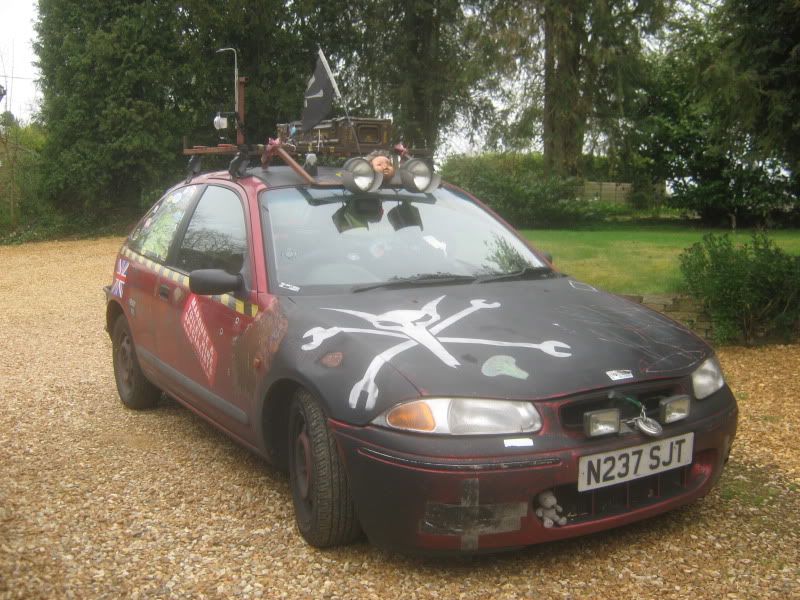 obvious, doesn't
quite
cover it
Posts: 218
Joined: Mon Apr 12, 2010 8:45 pm
---
I'll be me, stood next to my Bongo and/or the plastic pig. I'll have Ojnr in tow and Jaffa won't be far away, taking the piss out of me.
I don't care if it rains. Me and Ojnr will be Bongoing..........
and I drilled holes in the bottom of the plastic car a Curborough to let the water out.
Posts: 6411
Joined: Thu May 26, 2005 12:02 am
Location: Whitby. Where the sun always shines.
---
---
Who is online
Users browsing this forum: Jaffa and 3 guests