No commercial posts or advertising please, these will be deleted without warning

We are expecting a little one in June, so we need something a bit bigger! My wife wrote the ad before anyone asks.
Max needs a new home!
If you are looking for a pristine concours winner then this car is not for you. On the other hand if you are looking for a cheap convertible that is great fun to drive then keep reading.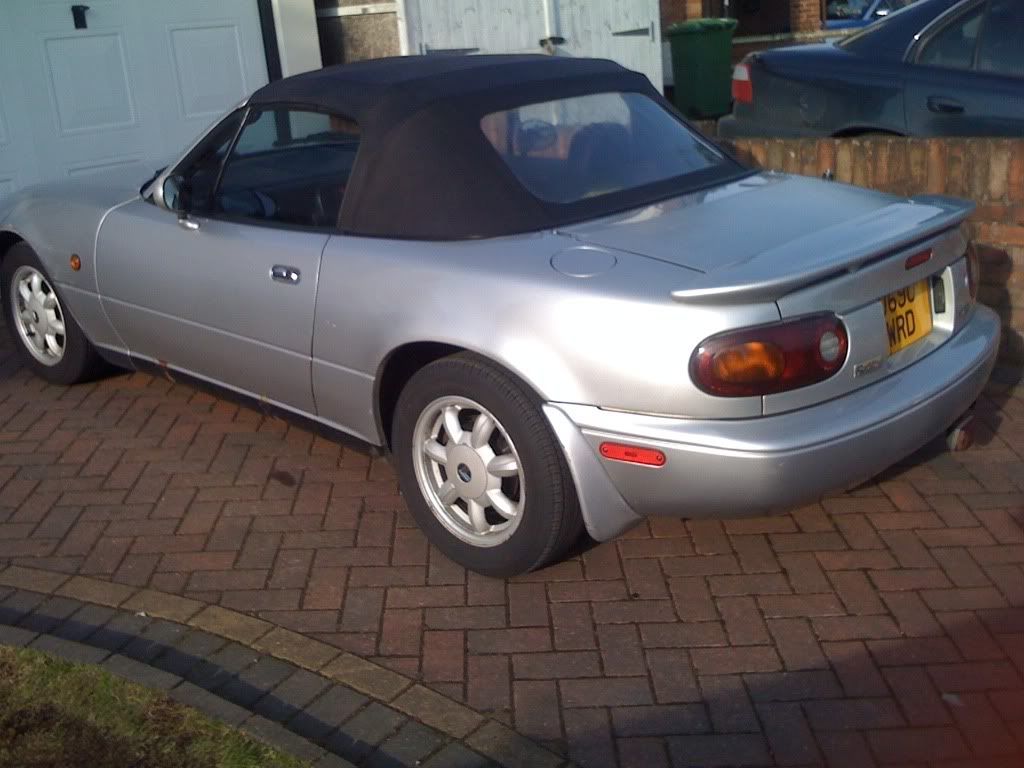 MOT until 13th June 2012
No tax (because the new regulations are stupid and my current insurer wouldn't cover 2 cars at the same time)
Things I love about Max
He has never let me down, always starts first time in any weather.
He has passed the last 2 MOT's with only minor advisories.
His heater is amazing!! Great for cold mornings and late night roof down driving
This is the most fun car I've ever owned. I love driving him and I'll be very sorry to see him go. In fact, I'm only selling him because I'm 6 months pregnant and have had to buy a "sensible" car. I already have a 2nd car so to keep Max as well would be a little bit excessive.
Things that have never annoyed me enough to do anything about them
The air con doesn't work. The extra radiator and other air con bits were removed by one of the previous owners. They had bought him as a track car and when the air con failed they decided to just remove it to save weight rather than fix it. It's not really a problem, I just open one of the windows or put the roof down instead.
The electric windows can be a bit slow but they probably just need a bit of WD-40.
There are a few dents, scratches and bits of rust. They don't affect how the car runs so I've just touched them up with a bit of Hammerite to stop the rust spreading.
Other things
This car is an import (came to the UK in 1997 according to the V5C) so bear this in mind when looking for insurance quotes. Some mainstream insurers will not touch it but there are plenty that will and the specialist insurers have no problem with it. I've used HIC & Budget.
The odometer is in km so 250k is not as bad as it sounds.
The speedo has both miles & km so no worries about trying to convert whilst driving.
There is a small hole in the sill (not structural) which may need welding for the next MOT. It is a common fault that drain holes become blocked and the sills fill with water. There should be holes in the sill for the water to drain out these had welded over on one side so I had to drill a hole in it. I've painted over it to stop the rust getting worse but it may still class as a failure.
Of the 8 previous owners I have known 4 of them, in fact 2 of them are members of my own family.
In the time that I have owned the car I have had to replace part of the exhaust, the windscreen and the tyres but that's it.
I would like Max to go to a good home. To someone who will drive him regularly and enjoy him, whether that be as a daily driver or track day car.
The photo above is an old one. More to follow when I have cleared out my rubbish and given him a wash.
£700 ONO
Based in Coventry
PM for contact details
Posts: 13
Joined: Mon Jan 28, 2008 12:42 am
Location:
---
Return to For Sale: Selling a bargain, want a bargain?
Who is online
Users browsing this forum: No registered users and 4 guests